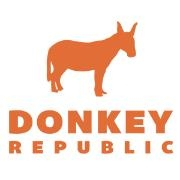 20% OFF on Donkey Bike memberships. Ride for free every day.
At Donkey Republic we run a global bike system, that allows our riders to unlock bikes with the Donkey Republic app in 50+ cities across Europe. You can take a Donkey for short trips to your destination or keep the bike for multiple hours to run errands in the city. With hundreds of bikes and thousands of pick-up and drop-off locations in town, you will always find a bike around you.
With a Donkey Bike membership you can:
Rent as many times as you want
The first 12 hours of each rental will always be free
Cancel your plan anytime, no binding period
Use the same app & membership when you travel to other cities
Copenhagen, Aarhus, Barcelona, Berlin, Budapest, Ghent, Munich, Rotterdam, Utrecht, Vienna, Reykjavik and many more cities - check the Donkey App for our global bike map.
To claim your discount, visit esncard.org.